Pilgan Plant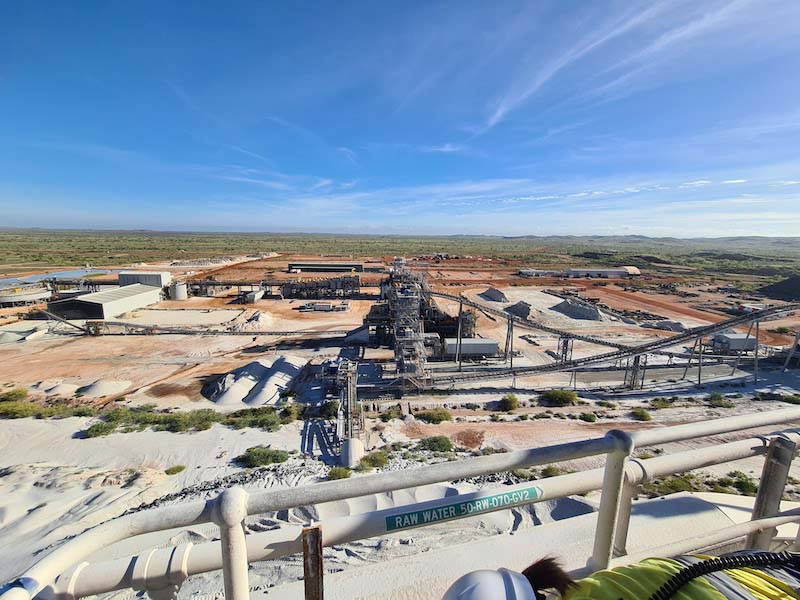 Our 2 million tonne per annum (Mtpa) mining and processing operation produces ~330,000 tpa of ~6% spodumene concentrate and 321,000 lbspa of +5% tantalite concentrate. The processing facility consists of a heavy/dense media separation (DMS) circuit to produce a coarse concentrate and a flotation and gravity circuit to produce fines concentrate. Both the fines and coarse concentrate are blended to deliver a high quality, ~6% spodumene concentrate product to customers.
Pilbara Minerals continues to optimise Pilgan Plant operations to improve processing performance and reduce operating costs.
In October 2021 we achieved first concentrate production through the new filter press at the Pilgan Plant, with the ramp-up of the new equipment expected to increase overall spodumene production. 
Following ramp-up, the annual production capacity of the Pilgan Plant is expected to increase from ~330,000 dry metric tonnes (dmt) to 360-380,000 dmt.
Ngungaju Plant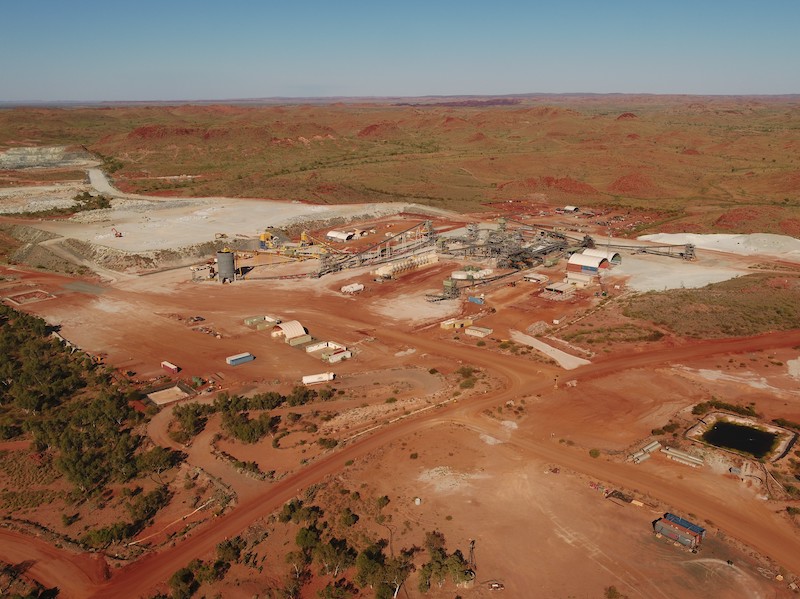 Following the completion of initial integration studies and in response to continued strong demand from our customer base, Pilbara Minerals' Board gave its approval for a staged restart of the Ngungaju Plant late in FY2021.
In October 2021 we successfully produced the first spodumene concentrate from the coarse circuit at our Ngungaju Plant. 
The restart of the coarse circuit at Ngungaju is expected to accelerate spodumene concentrate production, with construction, commissioning and ramp-up works progressing for both the fines and coarse concentrate circuits. 
We expect annual production to be ramped up to approximately 180,000 to 200,000 dmt from the September Quarter 2022. This will see the combined annual production capacity of the Pilgangoora Project increase to 560,000 to 580,000 dmt.
The restart of our Ngungaju Plant will expand production capacity, increase the scale of operations and provide production flexibility as Pilbara Minerals looks to satisfy rapidly growing market demand.
Exploration
Strategically positioned in Western Australia's resource-rich Pilbara region Pilbara Minerals' has a long-term commitment to exploration to grow its lithium-tantalum Mineral Resources and Ore Reserves.
We have a consolidated position of tenure within the Pilgangoora pegmatite district and tenements within the Strelley, Tabba Tabba, Wodgina, and Mount Francisco districts that together form part of one of the largest rare-metal pegmatite provinces in the world.
Our exploration program is progressing multiple targets within its highly prospective portfolio.  In addition, through its "operate, expand and diversify" strategy, the Company continues to assess new project opportunities for growth in the lithium raw materials and battery metals space. 
PILGANGOORA
The Pilgangoora pegmatite field was discovered in 1905 with alluvial tantalite recorded. To 1975 the area was variously worked for alluvial tin and tantalite by various companies before larger scale eluvial operations took place.  Exploration for rare-metals and other commodities including gold and base metals had been undertaken by numerous companies but it wasn't until 2014 that the full potential for lithium was recognised.  
Pilbara Minerals has undertaken multiple phases of RC and diamond exploration drilling between 2014 and 2021 with the most recent campaign resulting in a 39% increase to the Total Mineral Resource.  The Pilgangoora Project now hosts one of the world's largest hard rock lithium-tantalum deposits and is recognised as being within the most important sources of lithium raw materials globally.  
The acquisition of the Ngungaju Plant and associated tenure has opened up immense exploration potential in the area. Being part of the same mineralised system, it provides the opportunity for Pilbara Minerals to potentially increase the Pilgangoora Project Mineral Resource and Reserve inventory. Much of the Pilgangoora Project outside of the immediate mine area remains under-explored with several recently identified target areas showing potential for further resource growth over the coming years.  
Reserves
The continued mining operations at Pilgangoora and the increased Mineral Resource have resulted in a revised Ore Reserve estimate. Work undertaken to produce the updated Ore Reserves comprised pit optimisations, economic evaluation, pit design and operational depletion of the June 2020 Ore Reserve. The resultant Ore Reserves as at 30 June 2021, was 157.5 Mt at 1.19% Li2O, 120ppm Ta2O5 and 1.03% Fe2O3.
Expansion
The scale of our combined Mineral Resources at Pilgangoora provides significant opportunity for our company to expand operations and production with market demand.
With latent capacity contained within the combined operation, the first stage of expansion will draw from current assets. Utilising this latent capacity enables us to ramp up production to rapidly meet an increase in demand, with less capital investment.
The first stage (Stage 1) of production expansion will be delivered through a series of improvement works to unlock an additional 10-15% (~30- 50ktpa) of production capacity at our Pilgan Plant, followed by recommencement of operations at the Ngungaju Plant.
Prior to the acquisition of the Ngungaju Plant, we had been undertaking study work to support an optimised and incremental expansion of production capacity through a Stage 2 expansion of our Pilgan Plant.
The proposed Stage 2 expansion would increase processing capacity to 5Mtpa to produce 800-850,000tpa ~6% spodumene concentrate, and 800,000lbspa of tantalite concentrate through three stages.
To evaluate the potential of an incremental expansion, several technical studies have been completed which estimate the next phase of the incremental Stage 2 expansion capacity would be capable of being delivered within approximately nine months following a Financial Investment Decision.
Diversification
The ability to manufacture high-value battery-grade lithium products through downstream processing has the potential to deliver significant additional value for Pilbara Minerals. Recognising this, we are pursuing a pathway to become a fully integrated lithium raw material and chemical supplier.
In October 2021 we announced an incorporated joint venture (JV) in South Korea with POSCO to jointly construct and operate a 43ktpa LHM primary lithium hydroxide chemical processing facility (Conversion Facility). 
The JV supports our strategic objective to become a fully integrated lithium raw materials company and diversifies our global customer base, providing exposure to the rapidly growing South Korean lithium chemicals market. 
Offtake
We have attracted a group of high quality, experienced global offtake partners including Ganfeng Lithium, General Lithium, Great Wall Motor Company (SVOLT), POSCO and Yibin Tianyi.
Collectively, these partners underpin Pilgan Plant's production and its proposed Stage 2 expansion.
Pilgan Plant – Stage 1 in production ~330,000tpa nameplate of 6% spodumene concentrate. 
Upon successful completion of Stage 1 improvement works, which are currently underway, we expect production capacity to increase by a further 10 to 15% (+30-50ktpa).
Stage 1 production from our Pilgan Plant is fully allocated under offtake agreements with leading lithium carbonate and hydroxide chemical convertors including Ganfeng Lithium, General Lithium, Great Wall Motor Company (SVOLT) and Yibin Tianyi, which is affiliated with global battery manufacturer CATL.
Pilgan Plant – Stage 2 expansion ~850,000tpa to 900,000tpa nameplate of 6% spodumene concentrate.
The expansion is expected to lead to total production of ~ 850,000tpa to 900,000tpa, assuming the successful completion of our Stage 1 improvement works. This additional production is conditionally allocated under offtake agreements with Great Wall Motor Company, Ganfeng Lithium and POSCO.  The conditions of this offtake include a Final Investment Decision and completion of the Stage 2 expansion works and in respect of POSCO, Pilbara Minerals' participation in a downstream joint venture for a lithium hydroxide conversion plant in South Korea.
Ngungaju Plant
The annual production of approximately 180,000 to 200,000 dmt of spodumene concentrate is unencumbered by historical offtake agreements, meaning the product can be freely traded by Pilbara Minerals on the open market. It is likely that the initial production from the restart of this processing plant will be auctioned via Pilbara Minerals' Battery Material Exchange.